I'll start with the bragging. Jane over at Finding Fabulous featured my throw pillows as a favorite among her Frugalicious Friday links!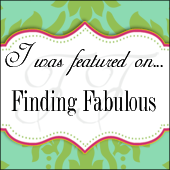 This is my first time being featured on another blog so I'm pretty thrilled. I've also gained some new followers today, five to be exact, the most I've gained in any one day...so once again...I'm pretty thrilled. Welcome, y'all!
Now for the links...I've been back at work for a little over a week so most of my projects are moving pretty slowly. Some of my weekend time is being taken up with lesson planning instead of being able to focus solely on decorating projects or whatever else I want. (Does anyone else think it's weird/funny that I spent my entire day talking about Civil War weapons and the Battle of Shiloh only to come home and be excited about making a window treatment for my nursery? Oh, the life of a teacher...)
Once again I don't have anything new of my own to share, but I do have a great project that was done by one of my friends who's about to have twin girls. She's got the cutest nursery and did her own version of some Pottery Barn Kids wall art. Check it out
here
and
here
.
A project I hope to get finished tonight is a faux Roman shade for the nursery. I'm planning on turning the drape that matches my bedding into the shade, so I'm going to be doing some light sewing. I have not sown in a quite a while so it might take me longer than I expect. I'm going to be using a similar method that was done by the
Thrifty Decor Chick
. I spent an hour Sunday night trying to find a
tutorial
only to wake up Monday morning to see that she had re-posted hers that same night. Very helpful.
Hopefully I'll have something to show off tomorrow or Thursday!